Top 10 Kids Activities
There are plenty of attractions and activities you and your family with enjoy when exploring Cape Town. To cut it down to only ten was really a tough choice.
For giving you a more detailed insiders view of the many options I narrowed down the Cape Town kids activites to five indoors activities for rainy days and five outdoors activities for sunny days.
So here they are
our favorite kids activities for warm sunny day
s in Cape Town:
1. Want to hold an owl or an eagle or learn about the world's fastest animal?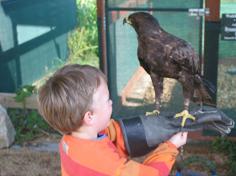 Then a drive to nearby
Spier Estate
in Stellenbosch. Their Eagle Encounter is top on the list with my children.
Eagle Encounters
(021 858 1826) is a bird rescue center where you can join interactive bird shows and are allowed to hold an eagle are always coming tops on my happy kids activities list. At Spier there is lots of space to run around or play ball, many restaurants, little craft shops, a duckpond, a river running through the estate, a playground and huge picnic area. My kids always enjoy the 40 minute drive from Cape Town through the lovely hills of the Cape Winelands and arrive at this wonderful huge playing field with all the amenities which make you appreciate living in South Africa.
Then there is also the fabulous
Cheetah Outreach Center
(021 809 1188) where your kids will love to see the fastest land animals on earth.
More info about the Cheetah Outreach Center here.
2. See and touch big birds and learn about ostriches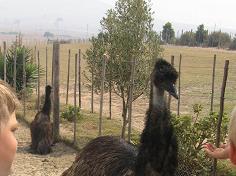 Have a leisurely drive out to the North of Cape Town to the
West Coast Ostrich Ranch.
This ostrich farm (021 972 1669) is only 15 minutes from Blouberg or 30 minutes from the city of Cape Town. The kids activities here are: learning about the biggest birds on earth, getting a fun guided tour, standing on an ostrich egg and even sitting on an ostrich. There you can let the children run loose at the
huge play area
with climbing frame and sandpit. Find your special gemstones at the Scratch Patch or -if you will not get in trouble with your kids;)- try the delicious ostrich fillet or ostrich schnitzel at the farmhouse restaurant. This is actually a great place for a children's party too.
3. Ever fancied a camel ride or having a snake hanging around your shoulders?
Then head straight away to
Imhoff's Farm
in Kommetjie. This farm (021 783 4545) in Kommetjie is a small village in itself with kids activities and entertainment galore. You can drive down there along the Atlantic Seabord via Hout Bay over the fabulous Chapman's Peak Drive you will have a day full of sightseeing and maybe you will spot a whale or a dolphin near the coast too. From Nordhooek you can easily drive via Ou Kaapse Weg around to Kommetjie. The trip will take roughly 45 minutes from the city center.
At the grounds there are several shops and art galleries as well as an organic coffee shop,
marimba entertainment, playground, horse, donkey and camel rides, face painting and a very interesting snake park
. The kids are always entertained and there you really can relax while the children have a ball of a time as well. And Paintball, anyone?:)
4. Do you long for a relaxing outing to the beach?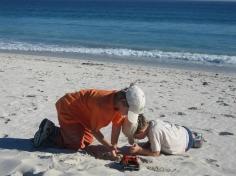 Then you definitely must go to Simonstown's Boulders Beach, where your kids will love to swim in the shallow waters with
penguins.
The little creatures are not very shy, although you should keep your children from trying to catch them;) And there are
many other beautiful beaches with tidal pools for safe swimming in and around Cape Town
. Or why not go to one of the best, cleanest, most popular beaches like the
Blue Flag Beaches?
Check them out and you will have a happy day with your kids.
5. Ride down the fantastic toboggan track in Tygervalley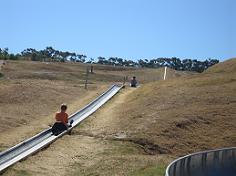 This is one outdoors activity especially for the bigger kids. But the little ones will enjoy that too, if mummy or daddy joins them.
Cool Runnings
is operating this
1,25 km long bob-sled track
in a steel half pipe where kids just scream for the fun it is. This track is only open for the last couple of years and is very modern and well maintained.
Kids over 8years old can go down alone, while little ones have to be accompanied by an (usually equally excited) adult. So have fun, but do not forget your sun protection as even you cool down riding down the track at speed.
---
Now to cover all eventualities of a
rainy day
or more like the sun hiding behind clouds or the wind being blowing to strongly here are… …
the best indoors kids activities in Cape Town
6. Go down to the waterfront and enjoy the colorful underwater world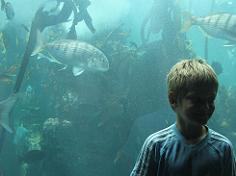 At Cape Town's
Two Oceans Aquarium
you will enjoy watching the funny penguins or relax while watching the movements of the
huge kelp forest
. Watch the groupers and stingrays swimming along the big sharks in the huge tank and occasionally
you might even spot divers at the shark tank
. Daily arts and crafts activities also keep the young children happy. There is a
good family restaurant
and if you want to come here more often than twice a year get a family membership which is really worth it, as your children also could join the very popular sleeping over events in the aquarium too.
7. Visit the planetarium and the South African Museum
This
Natural History museum
with its excellent dinosaur exhibition, the
whale well and underwater exhibition, displays of South African rock carvings
and showcase of the life of the indigenous people in South Africa. Surely there are many other interesting museums in Cape Town, but this one comes up tops for kids every time. There are some kids activites sheets available at the reception desk. The adjoining
planetarium
(021 481 3929) offers great shows for kids, where kids will be amazed by the
interactive show
and all the little lights and stars in the domed darkened room. The chairs are reclining, but the shows are so interesting you will not be able to snooze;)
8. Ready for more science and interactions?
Unfortunately the
MTN Science Center
(021 300 3200) in Canal Walk closed down, but there is still the Experilab in HighStreetShopping Center in Bellville. There are lots of hands-on-displays and kids are encouraged to experiment and explore physical concepts. This is a great place for kids of every age and you certainly will find many new things which inspire kids to experiment. Until new premises are found for the Science Center, we will have to wait for a great place in Cape Town where kids can do science experiments in a safe environment. There are organized kids activities and birthday parties possible at Experilab. Watch this space for the new upcoming Science Center in Cape Town. We will keep you posted:)
9. A bit of culture for the kids? How about seeing a play?
Take your kids to see one of the famous childrens' shows at the
Baxter Theater
in Rondebosch during school holidays. There are daily shows in English (021 685 7880) during the holidays for the young children from the age of 3. These are shows like "Pinocchio" or "Goldilocks and the three Bears" and they run usually in the late mornings.
The shows are sometimes interactive too, which my children enjoyed a lot. The theatre auditorium is beautiful with plush comfortable seats. Then there are usually several shows for children at the Artscape Theatre in the CBD during the school holidays too.
And not to forget a bit of magic! Great magic shows are performed in Cape Town by the College of Magic in Rondebosch. The 2011 Champs will perform at the Baxter Theatre on September 25, 2011. Do not miss this exciting event for kids!
10. Last but not least, how about Ten-Pin-Bowling?
This is a great family activity for rainy days and very popular activity with kids in Cape Town too. So be sure to call ahead and book a place at Let's go bowling.
There are bowling alleys in Stadium on Main in Claremont an in the Tyger Valley and also in the N1 City and in the Somerset West
shopping centers.
The bowling alleys are modern and you will have fun competing with your children in a game. There are lighter balls for the younger kids and frames for them too to help the ball rolling down the alley to get a great strike.
Well,
there would be so many more great kids activites for the Cape Town area
, like going to the movie theatre, having fun at Ratanga Junction, joining arts, pottery and magician classes, but hey,
these were my favorite top ten kids activities to get them happy and entertained during school holidays.